2013 Honorary Town Marshal – Slim Edwards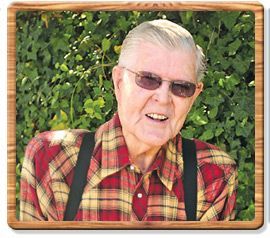 The Tuolumne County Sheriff's Posse congratulates newly elected 56th Anniversary 2013 Round-up Honorary Town Marshal Slim Edwards. Slim Edwards was born eighty four years ago in Big Fork, Arkansas the youngest of seven siblings to M.H Edwards and Leona Edwards Clayton. Slim got the call to head west and worked his way through Wisconsin, New Mexico and other stops before ending up in Tuolumne County where he met his wife of 64 years Yolanda Edwards. Slim and Yolanda have one daughter, Candace Kushar, of Paradise, CA and two grand-daughters and three great grand-daughters.
Slim has been a heavy equipment operator most all of his life and continuing pain from a broken neck in 1954 has limited his ability to work but he is due to receive his gold watch for 50 years in the Union later this year. In addition he recently received the Masonic Hyram award, the highest honor given to Masons. If you are out Campo Seco way and give Slim Edwards a chance to tell you about his life you will hear many stories about Tuolumne County and his many close friends and his countless land moving projects that impacted the development of this County. Slim provided his time and equipment to the Sheriff's Posse and helped turn swampy land into the Posse grounds as it exists today. He was and is a close friend to many longtime Posse members who appreciated the effort he put into making the Posse grounds a reality. All of the Posse members past and present owe a debt of gratitude to Slim Edwards and hearty congratulations on the honor the voters bestowed upon him as the 2013 Round-up Honorary Town Marshal.
2013 Mother Lode Round-up Top Hand Award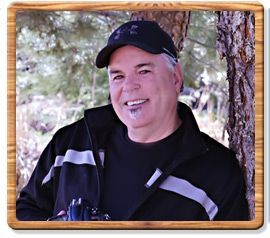 Rich Miller was born on a Marine Base in California. Both of his parents served in the Marine Corps during the War. His family lived in New York for his first 7 years, and then moved to a rural area in Southern California due to Rich contracting polio. He couldn't walk, but he could ride horses. Rich has been very involved with horses and riding since that time. Rich attended high school and college in Southern California. As a young man he was a horseshoer for a few years, then became a Meat Dept Manager. He raced motorcycles for quite a few years, and he also became interested in photography. He and his wife, Carol, moved to Tuolumne County in 1973. They have 2 children and 4 grandchildren. Rich and Carol have been married for 46 years. Rich has been a professional photographer since 1982 (mentored by Lynne Jerome).
Rich has photographed the Mother Lode Round Up, the Mother Lode Round Up Queen contestants, and other rodeos for over 27 years – it's one of his favorite activities. Rich received the Union Democrat's "Readers' Choice Award" for "Best Photographer" 8 years in a row. He was voted "Photographer of the Year" by Stanislaus Professional Photographers 2 times, and he was also voted "Photographer of the Year" by the California Professional Photographers Association. He is a member of the Professional Photographers of America. Rich enjoys riding motorcycles, competitive shooting with his son, traveling, and gardening.
Some of Rich's Community activities (past and present):
Taught photography at Columbia College
Taught ROP photography at Summerville High School
Associate Member of Tuolumne County Sheriff's Posse
Has volunteered his time and photographic expertise to Sierra Repertoire Theater for 27 years.
The Tuolumne County Sheriff's Posse is proud to honor long time Round-up photographer and Associate Member Rich Miller as the 2013 Top Hand Buckle Award winner.
Mother of the Year – Frankie Orpurt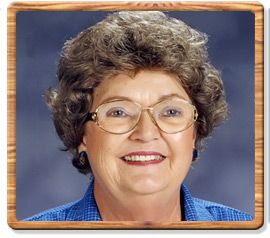 Frankie Marshall Orpurt was born May 11, l937 in Sasakwa, Oklahoma to Manford and Eunice Marshall. They moved to Modesto,CA in 1943 with sisters Lou Ann and Evelyn Marshall. Manford and Eunice made western purses and cowboy boots making many pair for local cowboys and dignitaries. They soon turned to retail opening a shoe and clothing store.
After graduating from Modesto High Frankie Marshall attended Los Angeles Pacific College, (now Azusa Pacific) and earned a degree in Education. Frankie taught school in Stanislaus County until she went to the Department of Defense schools on Okinawa, Japan, Bentwater, England and Hahn Air Base, Germany. While in Germany she met Air Force Staff Sergeant Carl Orpurt, whom she married in 1965.
In1969, son Edward D. Orpurt was born in Germany while the family was stationed there. In 1971, son Timothy M. Orpurt was born at George Air base. Leaving George Air Base the young family moved to Modesto, CA to live while Carl prepared to retire from the military in 1976 while stationed at Castle Air Base. After retirement Carl took a job with an air craft company in Dhahran, Saudi-Arabia. The family lived there for two years, traveling to other countries during that period.
After leaving Saudi Arabia the family settled in Lubbock Texas where they lived for six years. Carl and Frankie owned a Drilling Co. and, in addition, Frankie earned a Real Estate Broker's License and sold real estate. In 1985 the family moved to Tuolumne County. Ed and Tim both graduated from Sonora High School and married Sonora High graduates; Ed is married to Kim Orpurt and they have two daughters, Bailey and Courtney. Their son, 2013 Sheriff's Posse Captain, Tim Orpurt married Marcie Orpurt and they also have two children, a son Tyler and a daughter Emily.
Frankie retired from teaching in 1997. After retirement she worked as a substitute and even returned to teaching full time for two years in Empire, CA. In 2003 they left Stanislaus County to move to Florida where they currently live.
The Tuolumne County Sheriff's Posse and her son Captain Tim Orpurt are proud to honor Frankie Orpurt as the 56th Annual Mother Lode Round-up Mother of the Year.