2012 Grand Marshal – Bill Sanquinetti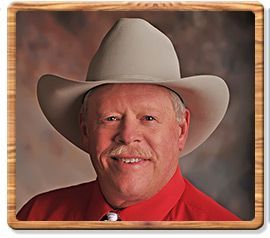 Bill (Ray W.) Sanguinetti was born in the summer of 1951 to Ray & Lee Sanguinetti at the old Columbia Way Hospital in Sonora. He was the second born and the only son of Ray & Lee's family of 4 children and is a fourth Tuolumne County generation of the David Sanquinetti family. David was Bill's great grandfather who moved here around 1870 from the mountain area of Fontanabuona Valley above the Chravari Sea Portin Italy and became a cattle rancher, sold vegetables from his large garden and was also known to have sold some "grappa" to the railroad workers.
Bill attended Sonora Elementary and graduated from Sonora High School in 1969 where he played football and was in FFA. While in high school, he had part time jobs at several local gas stations as well as always helping his family with the cattle at home and on the Cooper Meadow range. He started working his 41 year career at Anderson & Lehman in 1970. When the owners separated the concrete and hardware business, Bill stayed with the concrete side and worked for A & L Ready Mix until 2011. He and a friend also owned and operated a concrete pump truck during 1977-1979. He has 2 sons, Matt & Danny, and his 4 grandsons, Bryce, Coleton, Brayden & Cooper, are part of the 6th generation of theTuolumne County Sanguinetti family.
His great grandfather David, helped Father Guerin & others with cattle on the Cooper Meadow range and took over the permit in 1912. This year will mark the 100th anniversary of it being in and worked by members of the Sanguinetti family. Bill started going to Cooper Meadow when he was about 6 yr. old. For his 7th birthday he was surprised by his grandpa Henry Sr. who gave him his first horse at the stables that his grandpa and dad owned in the meadow where the Twain Harte Elementary School is now located. When Bill was about 9 yr. old, he was excited that he got to stay most of the summer at the Leland Meadow, Bert Reed cabin and Cooper Meadow cow camp sites. In the early 1960's before they started trucking the cattle, he was on the last few cattle drives from Keystone to Herring Creek that took 5 days.
His summer months were spent in Cooper Meadow not missing a year until the mid 1990's when someone was hired for a few years to work the family's cattle.
Bill felt strongly enough about helping his family with their cattle operation that he decided not to attend Modesto JC right out of high school but did attend Columbia Jr. College the following year.
Bill grew up around the Tuolumne County Sheriff's Posse with his dad being one of 1948's original Posse members. He joined the Posse in 1975 and started out and continues to help in the arena by pulling gates and helping with all other rodeo events. He learned the arena from and worked alongside another Posse member, the late Cisco May. Bill was Captain in 1984, honored as a "Life Member" in 2010,is in his 37th year with the Posse and feels very honored to have been chosen as this year's Grand Marshal following in the footsteps of both his father, Ray, in 1982, his grandfather, Henry Sr., in 1968 and also an uncle, Marion, in 1998. He would like to take this opportunity to thank the Sheriff's Posse for this honor and to wish his mother, Lee, as well as all the mothers, a Happy Mother's Day and hopes everyone will enjoy this year's parade and rodeos.
Rodeo Announcers

Coy Huffman – Professional rodeo announcers play a major role in connecting the audience to the action. It takes a unique individual to acquaint the fans with the cowboys, the stock and rodeo itself. Coy Huffman has just the right touch to excite and to get you involved.
Coy has worked all phases of rodeo from behind the chutes to out in front earning a "Gold Card" (lifetime membership) in the Professional Rodeo Cowboys Association.
A few years ago Coy began to pursue his life long vision of being a pro-rodeo announcer. Facing many challenges in a highly competitive field, Coy worked the rodeo labor list as chute boss at Cheyenne, Salinas, Dodge City, Colorado Springs, the Cow Palace and Sonora. He took advantage of opportunities to announce or emcee autograph parties, Exceptional Rodeo, high school rodeos and other events.
Coy Huffman and his wife Donna have their headquarters in Tucson, Arizona where they manage their rodeo business and ministry. Donna is a gifted writer, office administrator, driver and trusted counselor to rodeo wives. One of Coy's favorite sayings is, "Today is the best day of my entire life!" You are going to have a good friend by your side making every effort to help you have a great day at the rodeo. The Mother Lode Round-Up is happy to bring you the voice of Coy Huffman.
Growney Brothers Stock Contractors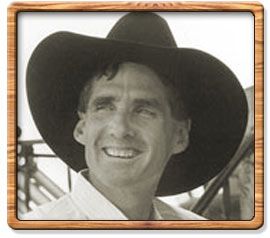 Growney Brothers Rodeo Company was born in 1979 when Growney purchased Rodeo Stock Contractors, Inc. and turned professional three years later. He opened eyes at the 1981 National Finals Rodeo when his bareback horse, Dreamboat Annie, teamed with Larry Peabody for an 89-point ride, an arena record that stood until 1995.
In the early days of the company, Growney did all he could to work as many rodeos as he could. He knew how to hustle. "We did all kinds of rodeos," Growney said. "We put on high school, junior and Indian rodeos. In 1982, we did 82 rodeos. We were going hard." This year, Growney is supplying livestock to 24 rodeos that include four events on the Wrangler ProRodeo Tour and some of the most prestigious and lucrative events on the calendar.
Growney starts his year in April at the Clark County Fair and Rodeo in Logandale, Nevada and then returns home for the Red Bluff Round-Up and Clovis Rodeo. By the end of the year, he will have worn out roads leading up the Pacific coast through Oregon- hitting such spots as St. Paul, Joseph and Canby – and Washington, highlighted by rodeos in Bremerton, Walla Walla and Puyallup.
Over the years, bucking bulls have made the Growney name a force in the rodeo business. Growney gives that credit to his partner, Don Kish, who started raising bulls nearly 20 years ago.
The company inherited ProRodeo Hall of Fame bulls Red Rock and Oscar and countless others. Growney's Wolfman, who in 1991 teamed with Wade Leslie for the only 100- point ride in rodeo history, has bloodlines to both legendary bulls. Each year, it's another crop of athletic beasts that can produce 90-point scores for the cowboys who can manage to ride them.
"I thought he was nuts for trying it," said Growney, reminiscing about Kish's decision to get into the bull breeding business. "We were broke all the time, but that's what we're known for now."
Rodeo Clown – Bert Davis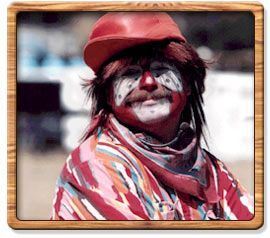 Not much can throw a funnyman who has faced rampageous bulls on a daily basis for the past 30 years. What keeps this extremely courageous and hilariously talented performer going those thousands of miles, year in and year out? Well, it comes from the heart & ldiots; Garth Brooks sings "It's the roar of the Sunday crowd" in Rodeo. But for Bert Davis, the Coppertown Clown, it is the roar of any crowd.
Enjoy Bert's interactive style and his ability to touch every member of the crowd from juniors to seniors and from first time spectators to veteran fans. The Coppertown Clown's antics hold something for everyone. So, relish and witness one of the nation's most talented, experienced funnymen in the business. You will be glad you did!!!