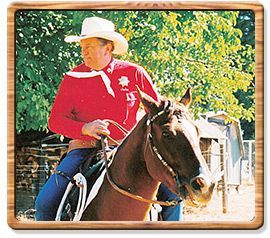 View the Roundup Parade on our Webcams:
Welcome to the Fifty Second annual Mother Lode Roundup, Tuolumne County's richest continuous family tradition. This 2009 Mother's Day weekend marks the fifty second anniversary of the Mother Lode Round-up and the 62nd anniversary of the Tuolumne County Sheriff's Posse, founded in 1948, who started presenting the Mother Lode Round-Up in 1958. This big rodeo and parade was established as a rewarding partnership between the Tuolumne County business community and the Posse and continues to be based on that partnership today.
Because of the generous support of the local business community, local government and law enforcement entities, and the hard work of the posse men and their families, and many, many volunteers, the Round-up continues to be one of the finest spring rodeos and celebrations in California. Every year over 350 of pro rodeo's finest cowboys and cowgirls are attracted to this rodeo which is now part of the PRCA Heartland Rodeo Series which celebrates small town rodeos throughout America. Saturday's parade is recognized as the second largest parade for entries in California. (Second only to the Rose Parade in Pasadena) Over 50,000 visitors are drawn every year to the Round-up weekend. This is event not to be missed, truly one
of the finest events of any kind, in California.
The Mother Lode Round-Up is a traditional western family, and hometown reunion that celebrates and pays tribute to our regional agricultural heritage and the Possemen in our past that kept this special event alive. People from all over the region look forward to a fun, great time celebrated during the beautiful spring season in the Sierra Nevada foothills. This event is a celebration of memories of simpler way of life and rodeo as it used to be. Break out your boots and Stetsons and celebrate Mother's
Day with us Round-up style.
Thanks to all the Posse families for making 2009 another Round-up to remember.
Thanks again
John Egger
Round-Up General Chairman