2009 Grand Marshal – John Ostrom
John Ostrom was born on July 28, 1934, in Grass Valley, California, to Isaak and Neva Ostrom and was the youngest of eight children. Isaak had immigrated to Grass Valley from Sweden in the early 1900's to work in the gold mines. John attended elementary school in both Grass Valley and Sierra City and graduated from Grass Valley (now Nevada Union) High School in 1953 where he lettered in football and track. As a small boy, John began working during his summers at the Packer Lake Lodge near Sierra City which was established by his Aunt Bertha Ostrom who was also an immigrant from Sweden. One of his fondest memories was his daily job to fish for trout on Packer Lake which was then served to the guests at the lodge for dinner. After graduation from high school, John attended Chico State University for several years on an athletic scholarship.
John's professional life involved a 32 year career with the United States Forest Service working on the Tahoe and Lassen National Forests prior to transferring to the Stanislaus National Forest in 1966. His career here on the Stanislaus began as a Corpsman Work Supervisor and Recreation Director at the Five Mile Job Corps Center on Yankee Hill. When the Job Corps Center closed, he transferred to the Calaveras Ranger District in Arnold where he was assigned to Recreation and, as part of this assignment, was the first U.S. Forest Service Snow Ranger at the newly opened Mt. Reba Ski Resort. John eventually transferred to the Forest Supervisor's Office in Sonora where his assignments were in fire and road engineering. Throughout his 32 year career, fire suppression and control were one of his primary responsibilities and he served as Logistics Chief on many large campaign fires throughout the Western United States. John retired on December 31, 1989 which, of course, provided much more time for his favorite pastime — fishing.
John and Carol Ostrom have been married for over 42 years having blended a family of six children in 1967: Eric, Lynn, Nels, Mikael, James, and Martha. They now have nine "wonderful" grandchildren: Athena, Christopher, Christo, Ethan, Marleigh, Saige, Brooke, Caleb, and Katelyn.
Soon after moving to Sonora, John began a member of the Sonora Volunteer Fire Department and participated in many of their activities, including fires, until 1972 when he and the family moved to the Soulsbyville..
John joined the Tuolumne County Sheriff's Posse in November, 1973, and since that time has served in many capacities. To name a few, he was elected as Captain in 1983, has served as the Mother Lode Round-Up Chairman, Mother Lode Round-Up Queen Contest Chairman, as well as the organization's Secretary-Treasurer for many years. He was an active participant in the acquisition of the property and subsequent development of the current Posse Grounds on Rawhide Road. For many years John has been a "Posse Red Shirt" volunteer for the Salvation Army Christmas Kettle Drive. He also has some notoriety as the "Bean Guy" at the Posse's annual Great Steak Barbecue as well as the "Bacon and Sausage Man" for the Mother's Day Breakfast. John has recently been honored as a Life Member of the Sheriff's Posse.
John is also a 40 year member of the Sonora Elks Lodge. He was selected as the Elk of the Year in 1968-69 and then served as a Lodge officer for six years before his election to the office of Exalted Ruler for the year 1975-76. Since that time, he has served in many District, State, and Grand Lodge appointments which included the Central District Vice-President in 1984 and District Deputy in 1986.
While John is certainly more than honored to be selected as the 2009 Grand Marshall, he has always considered his time and efforts as a "labor of love" for the Sheriff's Posse as well as his community.
Rodeo Announcers – Bob Feist & Coy Huffman

Bob Feist – Anyone who follows team roping has heard of the BFI. The Bob Feist Invitational Team Roping Classic is the world's richest team roping. Cowboys competed for over $250,000 in cash and awards at the 2006 "Open to the World" Roping. Bob Feist is the publisher of Ropers Sports News, the "Bible" of team ropers. When time permits you'll find him on the rodeo circuit as a rodeo announcer or on American Cowboy and Rodeo Sports Page, as well as on various television and radio shows. He announces over 150 performances each year which has included shows from Alabama to Hawaii and from Washington to Arizona. His announcing record also includes the 1980 National Finals Rodeo.
That relaxed, resonant voice coming over the mike is Feist's stock in trade. He has been greeting people, winning public speaking awards and acting as master of ceremonies from the time he was old enough to open the front door; according to the lady who knows him best, his mother.
Combining his speaking talent and his love of the sport of rodeo, Feist now feels that he is serving the public in a way that he can best utilize his talents. He does over 90% of his shows horseback, as he feels he can better entertain the audience by being closer to them.

Coy Huffman – Professional rodeo announcers play a major role in connecting the audience to the action. It takes a unique individual to acquaint the fans with the cowboys, the stock and rodeo itself. Coy Huffman has just the right touch to excite and to get you involved.
Coy has worked all phases of rodeo from behind the chutes to out in front earning a "Gold Card" (lifetime membership) in the Professional Rodeo Cowboys Association.
A few years ago Coy began to pursue his life long vision of being a pro-rodeo announcer. Facing many challenges in a highly competitive field, Coy worked the rodeo labor list as chute boss at Cheyenne, Salinas, Dodge City, Colorado Springs, the Cow Palace and Sonora. He took advantage of opportunities to announce or emcee autograph parties, Exceptional Rodeo, high school rodeos and other events.
Coy Huffman and his wife Donna have their headquarters in Tucson, Arizona where they manage their rodeo business and ministry. Donna is a gifted writer, office administrator, driver and trusted counselor to rodeo wives. One of Coy's favorite sayings is, "Today is the best day of my entire life!" You are going to have a good friend by your side making every effort to help you have a great day at the rodeo. The Mother Lode Round-Up is happy to bring you the voice of Coy Huffman.
Growney Brothers Stock Contractors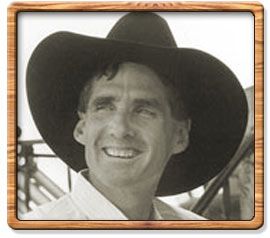 Growney Brothers Rodeo Company was born in 1979 when Growney purchased Rodeo Stock Contractors, Inc. and turned professional three years later. He opened eyes at the 1981 National Finals Rodeo when his bareback horse, Dreamboat Annie, teamed with Larry Peabody for an 89-point ride, an arena record that stood until 1995.
In the early days of the company, Growney did all he could to work as many rodeos as he could. He knew how to hustle. " We did all kinds of rodeos," Growney said. "We put on high school, junior and Indian rodeos. In 1982, we did 82 rodeos. We were going hard."
This year, Growney is supplying livestock to 24 rodeos that include four events on the Wrangler ProRodeo Tour and some of the most prestigious and lucrative events on the calendar.
Growney starts his year in April at the Clark County Fair and Rodeo in Logandale, Nevada and then returns home for the Red Bluff Round-Up and Clovis Rodeo. By the end of the year, he will have worn out roads leading up the Pacific coast through Oregon- hitting such spots as St. Paul, Joseph and Canby – and Washington, highlighted by rodeos in Bremerton, Walla Walla and Puyallup.
Over the years, bucking bulls have made the Growney name a force in the rodeo business. Growney gives that credit to his partner, Don Kish, who started raising bulls nearly 20 years ago.
The company inherited ProRodeo Hall of Fame bulls Red Rock and Oscar and countless others. Growney's Wolfman, who in 1991 teamed with Wade Leslie for the only 100- point ride in rodeo history, has bloodlines to both legendary bulls. Each year, it's another crop of athletic beasts that can produce 90-point scores for the cowboys who can manage to ride them.
"I thought he was nuts for trying it," said Growney, reminiscing about Kish's decision to get into the bull breeding business. "We were broke all the time, but that's what we're known for now."
2009 Rodeo Clown – Bert Davis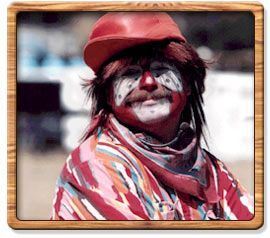 Not much can throw a funnyman who has faced rampageous bulls on a daily basis for the past 30 years. What keeps this extremely courageous and hilariously talented performer going those thousands of miles, year in and year out? Well, it comes from the heart & ldiots; Garth Brooks sings "It's the roar of the Sunday crowd" in Rodeo. But for Bert Davis, the Coppertown Clown, it is the roar of any crowd. Enjoy Bert's interactive style and his ability to touch every member of the crowd from juniors to seniors and from first time spectators to veteran fans. The Coppertown Clown's antics hold something for everyone. So, relish and witness one of the nation's most talented, experienced funnymen in the business. You will be glad you did!!!