2009 Mother Lode Round-Up Queen – Ariel Diggan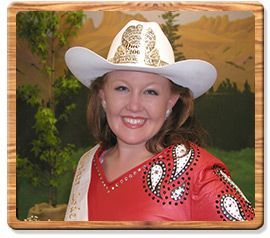 Let's hear it for Ariel Diggan, the 2009 Mother Lode Round-Up Queen!
Ariel grew up around the Mother Lode Round Up. She has marched and rode in the parade before and now is a part of the Posse Family. Ariel's horse Junior (Dr. Tommy) finished first in horsemenship. There were two reigning patterns, a flag run, a salute run and the barrel run.
The soon to be nineteen year old (her birthday is May 10th) also took first in congeniality, most photogenic, and highest ticket sales.
Ariel graduated Sonora High School in 2008 and will complete the ROP Cosmetology program in June. One day she wants to manage a livestock breeding program at a large ranch.
"It's been very stressful and totally worth it," says Diggan. "It has been so much fun, and I've learned so much."
Congratulations Ariel! It will be a busy year and one you will never forget.