2009 Honorary Town Marshal – Renee Paulsen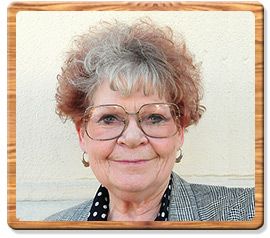 The Tuolumne County Sheriff's Posse and the Sonora Union Democrat are happy to congratulate Sonora Merchant Renee Paulsen who was elected the Honorary Town Marshal for the 2009, 52nd annual Mother Lode Round-up.
Renee was born in Rowell, New Mexico to Russell and Ruby Wooldridge and as the story goes her mother saw a buzzard egg on the fence post and asked Rene's father to pull over. Her mother rescued the egg and behold Rene was hatched. Rene attended school and graduated from Fountain in "Fort Carson" Colorado then attended the University in Albuquerque, New Mexico.
In 1964 Rene moved to California, settling in Oakdale then moved to Modesto. In 1976 she was hired by A.G. Spanos to work in Sacramento. Rene was later transferred to San Jose and this move was followed by reassignment in Seattle. In 1981 Rene returned to Modesto where she worked as a Principal Financial career agent specializing in group health plans. At this time it was determined that she had a brain tumor so following surgery and successful treatment she retired to Sonora in 1991. Rene was married to Don Paulsen, 2002 Honorary Town Marshal, who has since passed away. Together for six years they loved travelling all over the world. Rene Paulsen has a son Rudge, a daughter in law, Audrey, granddaughter Rochelle and grandson RJ Wynn in Sonora. Rene also has a daughter Sharie Randy in Clovis, CA and a daughter and son in law Peggy and Alan Azavedo in Gustine, CA. Rene lost her daughter, Faith, on Christmas Eve in 2000. Rene has been involved in the community as a member of the Sonora Rotary for the past 18 years and also a member of the Black Hat Foundation and worked on the Wild West Film Festival with that group in the 90's.
The Tuolumne County sheriff's Posse and the Sonora Union Democrat honor Rene Odessa Paulsen, the 2009 Mother Lode Round-up Honorary Town Marshal.
2009 Mother Lode Round-up Top Hand Award – Dan Rule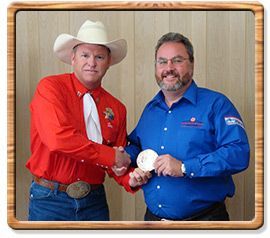 Dan has a long history in the telecommunications industry as he worked for Sierra Telephone prior to coming to Golden State Cellular in the early days of wireless. He is a current board member and past president of the Rural Carrier Association which represents the 75+ companies like GSC located throughout the United States. Last year he was named Tuolumne Chamber of Commerce's Entrepreneur of the Year. He is the proud father of JD and Kendra.
Golden State Cellular and its partners are Mother Lode pioneers. In 1895 we started providing the first traditional telephone service on a barbed wire fence. In 1989 Golden State Cellular installed the community's first cellular tower. For the first time, this new cellular technology allowed people to call for help from their cars. In addition, mobile phones spurred economic growth by allowing local realtors and the business leaders to untether themselves from their desks.
Golden State Cellular began operating from a store front in the Timberhills Shopping Center. As with most new businesses, it was necessary to keep operating costs at a minimum. Thus, the office of the General Manager, Dan Rule, was also the restroom since it was the only room with power. One day, while sitting on his brand new white chair at his filing cabinet desk using his cellular telephone, the other party asked, "What is that noise?" Dan quickly responded, "Road noise." Actually, it was the bathroom exhaust fan.
The Golden State journey continued with the opening of four stores located in Sonora, Angels Camp, Mariposa and Martell, as well as a business office in Sonora. To personally assist our customers, a customer service center with local operators was established. Four acres for our Engineering Department and the Switch, the system's brain, was also purchased. Our Switch and all of our cell sites are of the same quality and brand as Verizon. Golden State Cellular is committed to investing in and providing the latest advancements in wireless services.
Golden State Cellular has a nationwide system second to none, which has been accomplished by connecting our system to Verizon, Sprint, Alltel, and numerous other cellular providers. We can truthfully say, without hesitation, that we have the most comprehensive and best nationwide service available. Our coverage includes many back country locations. Plus, Golden State Cellular customers don't have to worry about the old days when taking out a loan was needed to pay for roaming charges. Roaming charges are the same as local charges now and are included in all our plans.
Golden State Cellular has come a long way from its humble beginnings in 1989 to its current staff of forty-five local residents and nationwide coverage. The credit for this outstanding service and customer care goes to the talented and gifted employees.
Quantum leaps in cellular technology have been made since the early days of voice calls. Today, Golden State Cellular customer can surf the internet, listen to music on our phones, take and send pictures; and let's not leave out TEXTING!
Thousands of you have entrusted us with your wireless needs and desires and we sincerely appreciate it.
Mother of the Year – Pearl Opie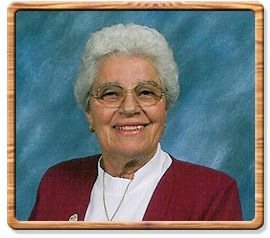 Pearl Opie is honored to be the 2009 Mother of the Year. She was born and raised in San Juan Bautista, where she enjoyed living and working on the family farm. Born October 5, 1927, Pearl was the fifth child and first daughter of John and Rose Lavagnino. A few years later, a second daughter was born to complete the family with six children.
Pearl attended San Jose State College where she earned her teaching degree. Her first teaching job brought her to Tuolumne County to teach at Summerville High School. Her cousin Lorraine Lavagnino, who later married Ron Stearn, fixed Pearl up on a blind date with Jim Opie. Pearl and Jim married in 1952 and had three children, Sue, Jan, and Jim. When their first child was born Pearl left teaching to help Jim with his auto repair business, Jim's Auto Service also known as Opie's Garage. The business is still being run by their son, Jim.
Pearl became an active part of the Tuolumne County Sheriff's Posse when her husband Jim joined in 1962. She worked side by side with him on several Posse functions until Jim's death in 2000. One of those Posse activities was organizing the annual Mother Lode Round-Up parade, which he was the chairman of for twelve year.
Jim and Pearl's son, Jim, followed in his Dad's footsteps by joining the Sheriff's Posse and he is currently the chairman of the Mother Lode Round-Up parade. Pearl is very happy living in Sonora, with her daughter Jan. She enjoys spending time with her six grandchildren, Austin, Lani, Joe, Cody, Steve, and Courtney. She also has two step-great grandchildren, Bianca and Julian, and one step-great great grandchild, Kyler.
Pearl was thrilled and honored when her son, Jim, told her she was named the 2009 Mother of the Year. She is excited to be riding in the parade and rodeo grand entry with her granddaughters, Lani and Courtney.