Honorary Town Marshal – Jon R. Cavaiani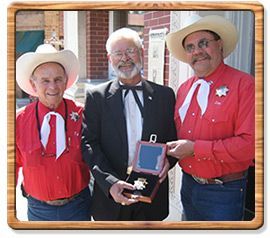 The Tuolumne County Sheriff's Posse and the Sonora Union Democrat are happy to honor Columbia resident Jon R. Cavaiani as the 2008 Honorary Town Marshal. John, a long time Columbia resident and a winner of the Congressional Medal of Honor, and former Vietnam POW, was voted to the honorary post by the largest vote count in the history of the contest. In the past from the selection of Wimpy Jones as the first town marshal, the contest has been a light hearted contest featuring many Sonora characters. Last year the late Bill Servente, long time owner of Servente's Bar and grocery received the honor and this year John Cavaiani has requested the opportunity to share his award with U.S. Army Sgt. Bobby Rapp, who died in Afghanistan on March 3 rd, 2008 and the Sheriff's Posse wholeheartedly supports his unselfish action. Bobby Rapp attended Sonora Elementary and Sonora High School and spent many years competitively skiing in the Far West Ski Assoc and was an avid golfer and friend to many. To honor Bobby Rapp, John wants to lead a horse in the traditional fallen soldier symbolic way and parade to honor the Rapp family with the American, California, and POW-MIA flags flown to honor his sacrifice for his country.
John Cavaiani is one of 109 living Congressional Medal of Honor recipients an award he received for actions on June 4 and 5, 1971 while serving as a platoon leader in Vietnam. After repeatedly exposing himself to heavy fire he volunteered to stay on the ground and direct helicopters in to the landing zone and provided covering fire while other platoon members escaped. He ended up spending almost two years in a prison camp suffering many injuries and deprivations.
The Tuolumne County Sheriff's Posse and the Sonora Union Democrat are proud to honor two great American heroes as our 2008 Honorary Town Marshals, Congressional Medal of Honor Winner John Cavaiani and U.S. Army Sergeant Bobby Rapp.
2008 Mother Lode Round-up Top Hand Award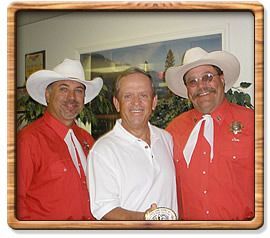 The 2008, 51st annual Mother Lode Round-up Top Hand Award goes to the Management and Staff of our Round-up Radio partner Clarke Broadcasting. Owner Randolph Holder was presented this award seven years ago but the Posse membership felt it was time to honor Larry England, the On Air personalities, News Team, and the Sales and Marketing staff at Clarke Broadcasting the home of KVML, KZSQ, and Country radio KKBN the radio home of the Mother Lode Round-up. The leadership of this great media partner includes Larry England, Station General Manager, Director of Sales, Ed Haley, and Lisa Westbrook, Promotions Director. The on air staff features 93.5 fm KKBN morning jocks Big Joe and Bridgette, 92.7 fm KZSQ morning crew Justin and Maryanne, and includes KKBN personalities John Bell and Jay Brooks. The newsroom at 1450 am KVML includes Mark Truppner, Bill Johnson, B.J. Hansen, and Alisha Cruz. The Sheriff's Posse can't forget Karen Jensen who handles the round-up account so masterfully and the administrative staff at Clarke Broadcasting. This partnership has been a blessing to this Round-up weekend event for many years and has continued to grow stronger the last few. The attention Clarke Broadcasting paid to this 51 year partnership between the Tuolumne County Business Community and the Sheriff's Posse has meant everything to the continued success of this great weekend parade and rodeo. The Tuolumne County Sheriff's Posse would like to thank Randolph Holder, Larry England, and everyone at Clarke Broadcasting the 2008 Top Hand Award Winner.
Mother of the Year – Patricia O'Brien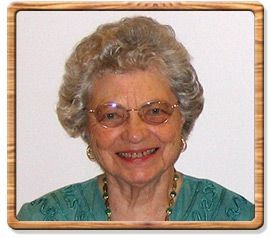 Patricia Helen O'Brien is the 2008 Mother Lode Round-up Mother of the Year. Patricia was born on November 27, 1925 in Pocatello , Idaho to New Mexico cowboy Horace Alexander and Florence Murphy. She lived in Pocatello with her sisters Gertrude, Arlene, and Barbara until the close of World War II. Attending Idaho State College when she met a brash young sailor attending Naval V-12 school named Tilton O'Brien who was nearing the end of his military service and married her eleven months later, a union that has lasted 64 years. After being mustered out of the Navy they moved to Corvallis, Oregon where Tilton attended Oregon State University. While attending college in Oregon they had a daughter Janet and a son, Posseman, Al O'Brien. After graduation Tilton started his Engineering career in the Refinery and Chemical division of a large national construction company which required frequent moves to locations throughout the U.S. and Canada. Patricia managed the family which now included three more brothers, Kevin, Don, and Mike as well as working at several bookkeeping jobs. Assignment to the company's World Headquarters in San Francisco, CA landed the family on the San Francisco peninsula where Patricia worked for the California Teachers Association Credit Bureau. After several years in San Francisco they returned to refinery construction and transferred to Fort McMurray, Alberta on the Athabasca Tar Sands Refinery project, near the Arctic Circle. They followed that with a two year consultation assignment on loan to a Japanese construction Co. in Yokohama, Japan after which Pat and Tilt retired from refinery construction to the Villages in San Jose. Pat opened her own business in San Jose, a needlework store, and became an IRS enrolled agent doing tax return preparation. Since "real" retirement they have traveled all over the world to Europe, Africa, Asia, Russia, and Canada, and continue to enjoy life playing bridge, swimming daily, and trying to keep up with the activities of their 12 grand children and 5 great grand children. The Tuolumne County Sheriff's Posse and her son Al O'Brien are honored to have Patricia O'Brien as the 51st Anniversary Mother Lode Round-up "Mama" of the year.