2007 Mother Lode Round-Up Queen Katie Mae Broderick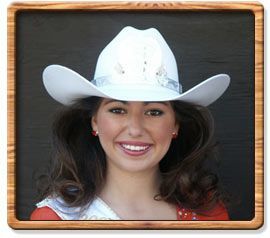 Lets hear it for Katie Mae Broderick, The 2007 Mother Lode Round Up Queen! Katie is currently a junior at Sonora High School. Katie and her horse "Too Much" have been competitors in the cutting horse arena for 6 years and last year she won the Year End Champion Buckle for Cutting competition. Katie is big on Community Service and is very active in 4-H. She's pretty handy on the range too, helping friends gather cattle in the Spring and Fall round ups. "It would be an honor to serve as Queen and celebrate our 50th Anniversary Round-Up and share my love of Rodeo with everyone, especially other young people".
When Katie's not on horse back, she loves playing the piano and singing. She's a strong student too earning the Presidential Academic Achievement Award for scholastic achievement.
Congratulations Katie! It will be a busy year and one you will never forget.