2007 Honorary Town Marshal – Bill Servente
Elected to the very prestigious post of Honorary Town Marshal in 2007, receiving the greatest number of votes in the short history of the contest, is Bill Servente.
Bill operated the local's favorite watering hole, Servente's, from 1945 to 1990, a business that had been in the family for a much longer period of time. Forty-five well spent years behind the bar and grocery counter of this landmark saloon and grocery as its proprietor.
Bill Servente was born in LaGrange, California to Mary and John Servente eighty-three years ago. He attended the one room LaGrange Elementary School and then attended Oakdale High School. Bill has two sisters, Aurelia Gada from Modesto who is 100 years old and sister Theresa Derby, also of Modesto who is 94 years old. Bill's brothers Louie and John/Jackie have both passed away.
Bill and his wife of 61 years , Audrey, shared a longtime passion for golf and Bill was also an avid fisherman and hunter. The Mother Lode Round-Up was a great event for them that they remember fondly for the amount of time they spent hunched over the bar and grocery counter, and the work that was involved serving large crowds of people in town for the Rodeo and parade. They don't remember actually watching the parade, except for occasional glances out the window, between 1958 ( First Annual Mother Lode Round-Up) and 1990, when they sold Servente's to Al and Raquel Cepeda.
Bill joins a very distinguished list of previous Honorary Town Marshals. The Sonora Union Democrat and the Tuolumne County Sheriff's Posse are proud to have Bill Servente represent the town of Sonora as its 2007 Mother Lode Round-Up 50th Anniversary Honorary Town Marshal.
2007 Mother Lode Round-up Top Hand Award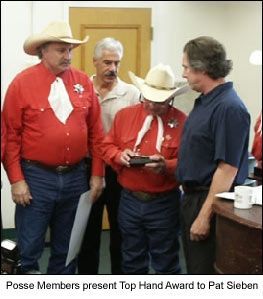 Pat Sieben, Sonora High school's band leader and music teacher, is justifiably the appropriate recipient for the Tuolumne County Sheriff's Posse's 2007 "Top Hand" buckle award. Pat, personally and with his Sonora High Golden Regiment Band "the most awesome band in the universe", has been a steadfast participant and supporter of the Mother Lode Round-Up Parade and Rodeo since he arrived in Tuolumne County in 1983.
The band always marches and plays in the Round-Up parade and for the past 12 years at the special request of Rodeo Chairman Ty Wivell, has performed mini-concerts and played the Star Spangled Banner during the Saturday Grand Entry of riders at the Mother Lode Round- Up Rodeo. As a compliment to the Round-Up Parade and Rodeo, Pat started a great new event in 1995 – The Band Review. This event , held at the Sonora High School football field is an opportunity for all school bands in the county to "strut their stuff!"
Pat's contribution to Sonora High,the community of Tuolumne County and the students that make up "The Band", is far reaching. He has led The Band to San Francisco, especially to the Giant's Games, Canada, Arizona, Colorado, to bowl games, and much more. But his real achievement lies with the the band members and the development of the inner qualities of character, pride, self-worth, excellence, ability, dignity, clean fun and discipline – yes discipline. Pat encourages expressions of individuality typified by the cymbal players and drummers (on trash cans??) at the Sonora High football games. Expressions which are guided by good taste, that great sense of clean fun and the ever-present discipline and respect for leadership that is the hallmark of a great band.
2007 Mother of the Year – Patricia O'Brien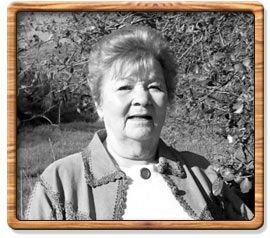 The 2007 Mother of the Year is Wilma Lloyd. Wilma was born in Lodi, California on January 25th 1940. As an infant, she, along with parents Bill and Annie Yaden, her three sisters and four brothers, moved to Sacramento. After her mother passed away in 1949, Wilma lived with her older sister, Bonnie. They stayed in Sacramento until she was eleven and then moved to Willets, California
In 1955, Wilma was married to Jim Stephens and they had four children. She is mother of Posseman Dave Stephens, who is the eldest of the four and lives in Sonora/ Next was son Matt Stephens of Willits, followed by daughters Karen Foust and Jenna Schultz, both of Willits.
In addition to raising her children, Wilma also worked in the restaurant business. Later she divorced and moved back to Sacramento, where she stayed for about a year and then returned to Willits to be closer to her children and grandchildren.
Wilma still lives in Willits and in addition to her four children she has twelve grandchildren and five great grandchildren. She enjoys being with her family , sewing, gardening and reading.
As to being chosen 2007 Mother of the Year,Wilma says ,"I'm totally excited, and very honored. I can't wait for Mothers Day!"