2006 Grand Marshal – Paul Francis Castle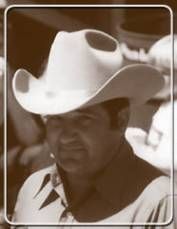 Paul Francis Castle was born in Sonora on August 18th, 1933, to Walt and Angie Castle. Into a family of three brothers, Bud, Walt and Sam, and a sister Dolores. He attended elementary school at the Sonora Dome and graduated from Sonora Union High School in 1951, where he was quarterback and captain of the varsity football team. He was one of the founding members of the Cowboy Arena Club which held rodeo events at Pastorini's Longhorn. He was drafted into the U.S. Army Combat Infantry in 1953 during the Korean War. After basic training he, along with fellow Sonorans, Larry Fraguero and Ty Wivell, helped organize the Rodeo Team for General Sink at Fort Lewis, Washington. Besides rodeoing throughout the Northwest, they put on the first rodeo at Ft. Lewis in 1954 with yet to become rodeo legends, Chuck Parkinson, Wick Peth and Ken Williams. Paul cowboyed and packed in the Emigrant Wilderness for Cliff and Rose Mitchell at Kennedy Meadows and at their local ranches for several years in the late 1940s and 1950s. He rodeoed CCA in barebacks and bulls during this time. He was one of the contestants at the SwimBack Rodeo in 1952, raising money for the Sonora Union High School pool. He also packed for Fred Leighton into Yellowhammer during his high school summers.
Paul worked as a lineman starting in 1956 and became the line foreman for PT&T in Tuolumne County in 1969. He worked for PT&T for 28 years retiring in 1984. He joined the Tuolumne County Sheriff's Posse in 1969, serving as its Captain in 1975. He is still an Honorary Past Active Member. He is also a 50 year member of the Sonora Elks Lodge.
One of Paul's greatest contributions to the Posse and the community was being Rodeo Chairman for the Mother Lode Round-up for 21 years from 1969 to 1990. Before 1969, he worked the Round-up and with CCA stock contractors Andy Asbaugh, Hap Avangello and Dan Russell. He also doubled as the bullfighter during some of those years. He was the catalyst to converting the Round-Up from amateur to professional rodeo by bringing the PRCA (Professional Rodeo Cowboys Association) in 1969, through the Flying U Rodeo Company and Cotton Rosser. Paul is an avid rodeo fan who attends the NFR, many California and Nevada rodeos, and studies rodeo relentlessly. To this day, Paul organizes a bus trip annually to the Cow Palace, the Grand National Rodeo, Horse and Stock Show. Paul raised his son John and two daughters Danesse and Annette who all still live and work locally. Paul and his wife Barbara now reside on the Bonavia Ranch on Lyons Bald Mountain Road in Sonora.
He wishes all the Mom's a Happy Mother's Day and says to everyone "come to the 49th Mother Lode Round-Up, (the kid he helped create), I've never missed one and I'll definitely be there again this year come hell or high water!!"
Rodeo Announcers – Bob Feist & Coy Huffman

Bob Feist – Anyone who follows team roping has heard of the BFI. The Bob Feist Invitational Team Roping Classic is the world's richest team roping. Cowboys competed for over $250,000 in cash and awards at the 2006 "Open to the World" Roping. Bob Feist is the publisher of Ropers Sports News, the "Bible" of team ropers. When time permits you'll find him on the rodeo circuit as a rodeo announcer or on American Cowboy and Rodeo Sports Page, as well as on various television and radio shows. He announces over 150 performances each year which has included shows from Alabama to Hawaii and from Washington to Arizona. His announcing record also includes the 1980 National Finals Rodeo.
That relaxed, resonant voice coming over the mike is Feist's stock in trade. He has been greeting people, winning public speaking awards and acting as master of ceremonies from the time he was old enough to open the front door; according to the lady who knows him best, his mother.
Combining his speaking talent and his love of the sport of rodeo, Feist now feels that he is serving the public in a way that he can best utilize his talents. He does over 90% of his shows horseback, as he feels he can better entertain the audience by being closer to them.

Coy Huffman – Professional rodeo announcers play a major role in connecting the audience to the action. It takes a unique individual to acquaint the fans with the cowboys, the stock and rodeo itself. Coy Huffman has just the right touch to excite and to get you involved.
Coy has worked all phases of rodeo from behind the chutes to out in front earning a "Gold Card" (lifetime membership) in the Professional Rodeo Cowboys Association.
A few years ago Coy began to pursue his life long vision of being a pro-rodeo announcer. Facing many challenges in a highly competitive field, Coy worked the rodeo labor list as chute boss at Cheyenne, Salinas, Dodge City, Colorado Springs, the Cow Palace and Sonora. He took advantage of opportunities to announce or emcee autograph parties, Exceptional Rodeo, high school rodeos and other events.
Coy Huffman and his wife Donna have their headquarters in Tucson, Arizona where they manage their rodeo business and ministry. Donna is a gifted writer, office administrator, driver and trusted counselor to rodeo wives. One of Coy's favorite sayings is, "Today is the best day of my entire life!" You are going to have a good friend by your side making every effort to help you have a great day at the rodeo. The Mother Lode Round-Up is happy to bring you the voice of Coy Huffman.
Growney Brothers Stock Contractors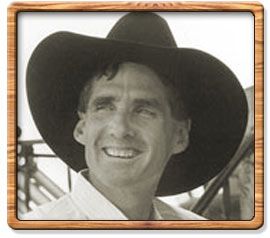 Growney Brothers Rodeo Company was born in 1979 when Growney purchased Rodeo Stock Contractors, Inc. and turned professional three years later. He opened eyes at the 1981 National Finals Rodeo when his bareback horse, Dreamboat Annie, teamed with Larry Peabody for an 89-point ride, an arena record that stood until 1995.
In the early days of the company, Growney did all he could to work as many rodeos as he could. He knew how to hustle. "We did all kinds of rodeos," Growney said. "We put on high school, junior and Indian rodeos. In 1982, we did 82 rodeos. We were going hard." This year, Growney is supplying livestock to 24 rodeos that include four events on the Wrangler ProRodeo Tour and some of the most prestigious and lucrative events on the calendar.
Growney starts his year in April at the Clark County Fair and Rodeo in Logandale, Nevada and then returns home for the Red Bluff Round-Up and Clovis Rodeo. By the end of the year, he will have worn out roads leading up the Pacific coast through Oregon- hitting such spots as St. Paul, Joseph and Canby – and Washington, highlighted by rodeos in Bremerton, Walla Walla and Puyallup.
Over the years, bucking bulls have made the Growney name a force in the rodeo business. Growney gives that credit to his partner, Don Kish, who started raising bulls nearly 20 years ago.
The company inherited ProRodeo Hall of Fame bulls Red Rock and Oscar and countless others. Growney's Wolfman, who in 1991 teamed with Wade Leslie for the only 100- point ride in rodeo history, has bloodlines to both legendary bulls. Each year, it's another crop of athletic beasts that can produce 90-point scores for the cowboys who can manage to ride them.
"I thought he was nuts for trying it," said Growney, reminiscing about Kish's decision to get into the bull breeding business. "We were broke all the time, but that's what we're known for now."
2006 Rodeo Clown – Dwayne Hargo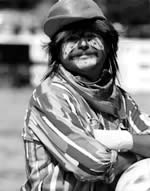 Not much can throw a funnyman who has faced rampageous bulls on a daily basis for the past 30 years. What keeps this extremely courageous and hilariously talented performer going those thousands of miles, year in and year out? Well, it comes from the heart, Garth Brooks sings "It's the roar of the Sunday crowd" in Rodeo. But for Bert Davis, the Coppertown Clown, it is the roar of any crowd.
Enjoy Bert's interactive style and his ability to touch every member of the crowd from juniors to seniors and from first time spectators to veteran fans. The Coppertown Clown's antics hold something for everyone. So, relish and witness one of the nation's most talented, experienced funnymen in the business. You will be glad you did!!!