2007 Mother Lode Round-Up Queen Katie Mae Broderick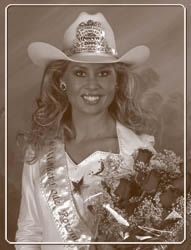 Drew is 18 years old and a Sonora High School senior. Drew is the daughter of Nancy Drews and Brian Kermeen, and she has one brother, Devin. She plans to attend Columbia Junior College in the fall.
No one could have described the honor of being Mother Lode Round-Up Queen better than Drew herself. "I ran for this year's Mother Lode Round-Up Queen, because it has always been a dream and aspiration of mine to follow in the footsteps of the past queens whom I have always looked up to. I also believe that life has little meaning unless you follow your dreams and work hard to achieve them. Nearly ten years ago, I can remember promising my horse, Dusty, that some day we would run around the arena at the Round-Up, saluting to all the people and wear the crown that represents all of our hopes and dreams. I have been a resident of Tuolumne County my entire life and would be honored to represent the Mother Lode, Sheriff's Posse and the county in which I have enjoyed growing up." Congratulations Drew! It will be a busy year and one that you will never forget.