2005 Honorary Town Marshal – John "J.B." Belemecich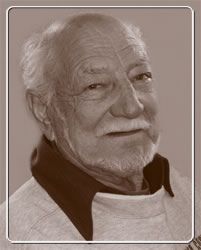 Sonora native John "J.B." Belemecich is the 2005 Tuolumne County Sheriff's Posse Mother Lode Round-up Honorary Town Marshal. JB was born in the old Sonora Hospital at Washington and Church Streets to Charles and Clementine Belemecich. JB and his brother and sister grew up in Sonora attending Sonora Elementary and Sonora High School at the Dome. After graduation JB answered the call during World War II serving in the Army Corps engineering and flying B24 bombers and P47 fighters in both theaters.
JB was an auto mechanic by trade and has owned five different shops of his own and, in addition, worked for every other shop in town. In the 1950's he lost a foot in an industrial accident at Pickering Lumber Company where he also worked as a mechanic. Since the 1950's he has driven the red Standard Fire Department pickup truck as his every day vehicle when the Sierra Pacific Industries mill was called the Pickering Lumber Company and Standard was the Pickering Company town. In addition, he is a long time member of Independent Hose and Chemical Company No.2 and Eureka Engine Company No.1, the historic volunteer fire department in Sonora.
In 1955 he helped tear down the old Sonora Hospital, where he was born, and salvaged some of the beams to build the Dog House, the lately departed tavern on Peaceful Valley Road and the Mono Highway in East Sonora, which he owned and operated for many years. JB is a charter member of the Sonora Moose Lodge, and claims he is the oldest member of E Clampus Vitus, and is a three time commander of Veterans of Foreign Wars.
JB hasn't missed a Mother Lode Round-Up Parade since it was held at the old racetrack out on Racetrack Road in the 1930's. He has walked or ridden in the parade numerous times and the hat he will be wearing this year in the Round-Up Parade was given to him by former County Sheriff, Miller Sardella, who served as Tuolumne County Sheriff from 1962 to 1974.
JB is no stranger to being given an honorary title having served as parade marshal for the Volunteer Firemen of Sonora for the Firemen's Muster in Columbia State Park.
John and his wife, Ruby, have two children, Danny who lives with his wife Kathy in Stent, and a daughter Dolene who works for the government in Sacrament.
The Tuolumne County Sheriff's Posse and the Sonora Union Democrat are proud to honor John "J.B." Belemecich as the 2005 Mother Lode Round-Up Honorary Town Marshal.
2005 Mother Lode Round-up Top Hand Award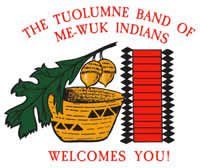 The Tuolumne Band of Me-Wuk Indians Community Council
The Tuolumne Band of Me-Wuk Indians Community Council is the 2005 Mother Lode Round-Up recipient of the Top Hand Buckle Award. The tribe has been an ardent supporter of the Round-Up and the Sheriff's Posse for many years. The Tribal motto is " Building a Sense of Community Through Sharing." The tribe has lived this creed by being a great neighbor in supporting all Tuolumne County non- profits efforts with financial support and participation in most of the large and small charitable events that take place every year in our County. Community Council Chairman is Kevin Day, Vice Chair is Michael Cox, Treasurer is Lorraine Forde and Secretary is Lori Severson.
The Tuolumne Economic Development Authority is the economic development arm of the Community Council. Their first project was the Native Plant Nursery which was followed by the Black Oak Casino which recently opened the expanded Phase II facility. In addition, the new Medical Center was recently opened on Tuolumne Road. Additional commercial and residential development is planned on the historic Westside Lumber Mill property. President of Economic Development is Lester Lingo, Vice President is Rhonda Standage, and Secretary/Treasurer is Lorraine Forde.
The central Sierra Nevada is the traditional Me-Wuk homeland, comprising of the Northern Band homeland in the counties of Amador and Calaveras to the North, the Central Band around Tuolumne County and the Southern Bands in Yosemite and Mariposa Counties. The Tuolumne Rancheria established in 1910 is comprised of descendants of all three regional tribes.
2005 Mother of the Year – Anna Marie Peterson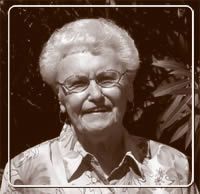 This year's Mother of the Year is Anna Marie Peterson of Modesto, California. Anna Marie originally hailed from Montevideo, Minnesota, where she was raised with her two older sisters. In 1938 she married Wes Peterson from nearby Dawson, Minnesota. The young couple moved to Southern California to take jobs in the Defense industry during World War II. After the war, the family lived in Colorado for eight years, but returned to California and settled in the Pasadena area in 1953.
To support their horses, the two oldest Peterson boys, Perry and Jim, took jobs cleaning stalls at the Grant Iverson Stables in Altadena. This was Anna Marie's introduction to the horse culture, which she has maintained through the years thanks to her son, Posseman Jim Peterson.
Anna Marie has had a lifelong career as a bookkeeper, holding numerous jobs both in government and in private industry. Even though she retired in 1996, Anna Marie continues to work part-time keeping the books for the House of Rest of the Presbyterian Church of Pasadena.
Anna Marie participated in her children's activities as they grew up. All four of her sons were avid baseball players. Anna Marie was each of their number one fans; rooting at every game and doing all the league activities that go along with being a sports mom.
Following the death of her husband, and her own retirement, Anna Marie moved to north Modesto to be near three of her four sons. She lives with Russ in Modesto, Robert is a sales representative for Classic Wines of California and lives in Sonora, and Jim is an attorney and the Tuolumne County Supervisor for the Third District, and has been an active member of the Tuolumne County Sheriff's Posse since 1999.
Anna Marie has a long association with Tuolumne County, having visited frequently since 1973. She has even helped her granddaughter, Marcia, with her entries in the Mother Lode Parade. Anna Marie is honored to be selected Mother of the Year in 2005, and wishes everyone a Happy Mother's Day.