2004 Grand Marshal – Tom Fraser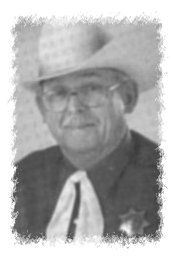 Tom Fraser was born in Sonora on Nov. 1, 1931 to Tom and Elizabeth Fraser. His family's history in Tuolumne Co. started in the late 1800's when his grandfather settled at a small ranch outside Jamestown. He, along with his brother Dave and sister Ruby Fraser-O'Brien attended Sonora High School, where he lettered in football and track. In addition Tom held a State Farmer degree in the FFA. Tom has many memories of a great boyhood in Tuolumne County during the war years. He and his brother Dave filled in for cowboys off serving their country during World War II. They spent most of that time working for the Sanguinetti family, who in those days still drove their cows from LaGrange to the high country. Tom and Dave spent their summer months in Cooper's Meadow and other high country pastures working the cattle that spent the season grazing there.
Tom's professional life involved a forty year career working for PGE. He started with PGE in 1957 as a laborer and worked in Jackson, Oakdale, Manteca, and Sonora as he grew in his job to the position of Electric Crew Foreman. Tom retired from PGE in 1997.
During those years he also worked as a ferrier taking care of ranch horseshoeing for thirty years. Tom Fraser served three terms on the Board of Directors of the Mother Lode Fair, and was a trustee of the Jamestown School District. He also was a 4H leader and has worked on the Jr. Livestock Committee for over 40 years. Tom is a very visible working member still at the Jr. Livestock auction every year.
Tom joined the Posse in May of 1966 after already working on the Mother Lode Round-up for the previous ten years, a period in which the Posse handled all the bucking stock themselves for the rodeo. Tom has many great Posse stories to tell but none top the story of the San Francisco St. Patrick's Day parade of 1973, the year Tom was Captain of the Posse.
Tom remembers that it was a blustery day in San Francisco with the Posse and Sheriff Miller Sardella needing to, in order to ward off the chill of the day, imbibe in liquid refreshment to of course provide warmth. The boys were making sure they were warmed up for the parade when the teetotalling San Francisco Police Chief showed up and made some threats to the man in charge, Posse Captain Tom Fraser, about a paddy wagon being called in if the boys didn't settle down a bit and stop riding their horses into the neighborhood bars. It turned out Sheriff Sardella and the Police Chief were old friends and the Tuolumne Co. Sheriff enticed the San Francisco Police Chief to fall off the wagon, if only for the day, and join the boys in a very good time which averted the necessity of the paddy wagon.
The St. Patrick's Day parade had to stop a couple of times for Captain Fraser to gather up wayward Posse riders. Tom remembers Sheriff Sardella coming to him and the other riders and saying "Boys let's show them a good time." Firing blanks from their guns the boys spurred their horses to a high lope down Market St. past the front of the reviewing stand directly in front of City Hall then immediately to the stock truck which they quickly loaded and made a hasty retreat from the city. The Tuolumne County Sheriff's Posse was not offered a return invitation to the St. Patrick's Day parade for many years after that big skedaddle.
On February 12, 1956 Tom married Patty Bundy, also a lifelong Tuolumne Co. resident who was born in the old Jamestown hospital. Tom and Patty had six children, all still with close ties to Tuolumne County. Their family now includes fifteen grand children, and two great grand kids. Tom and Patty retired to a small Quartz Mountain farm where they work a flock of sheep and enjoy their retirement in beautiful Tuolumne Co. This year they're celebrated their forty eighth wedding anniversary. Tom is still a very active member of the Tuolumne County Sheriff's Posse, very rarely (if ever), missing a meeting. He has been honored as a "Life Member" of the Sheriff's Posse. Tom Fraser continues to be an inspiration to the younger guys in the Posse and is a living example of the history and tradition of this great organization
Rodeo Announcers – Bob Feist & Coy Huffman

Bob Feist – Anyone who follows team roping has heard of the BFI. The Bob Feist Invitational Team Roping Classic is the world's richest team roping. Cowboys competed for over $250,000 in cash and awards at the 2006 "Open to the World" Roping. Bob Feist is the publisher of Ropers Sports News, the "Bible" of team ropers. When time permits you'll find him on the rodeo circuit as a rodeo announcer or on American Cowboy and Rodeo Sports Page, as well as on various television and radio shows. He announces over 150 performances each year which has included shows from Alabama to Hawaii and from Washington to Arizona. His announcing record also includes the 1980 National Finals Rodeo.
That relaxed, resonant voice coming over the mike is Feist's stock in trade. He has been greeting people, winning public speaking awards and acting as master of ceremonies from the time he was old enough to open the front door; according to the lady who knows him best, his mother.
Combining his speaking talent and his love of the sport of rodeo, Feist now feels that he is serving the public in a way that he can best utilize his talents. He does over 90% of his shows horseback, as he feels he can better entertain the audience by being closer to them.

Coy Huffman – Professional rodeo announcers play a major role in connecting the audience to the action. It takes a unique individual to acquaint the fans with the cowboys, the stock and rodeo itself. Coy Huffman has just the right touch to excite and to get you involved.
Coy has worked all phases of rodeo from behind the chutes to out in front earning a "Gold Card" (lifetime membership) in the Professional Rodeo Cowboys Association.
A few years ago Coy began to pursue his life long vision of being a pro-rodeo announcer. Facing many challenges in a highly competitive field, Coy worked the rodeo labor list as chute boss at Cheyenne, Salinas, Dodge City, Colorado Springs, the Cow Palace and Sonora. He took advantage of opportunities to announce or emcee autograph parties, Exceptional Rodeo, high school rodeos and other events.
Coy Huffman and his wife Donna have their headquarters in Tucson, Arizona where they manage their rodeo business and ministry. Donna is a gifted writer, office administrator, driver and trusted counselor to rodeo wives. One of Coy's favorite sayings is, "Today is the best day of my entire life!" You are going to have a good friend by your side making every effort to help you have a great day at the rodeo. The Mother Lode Round-Up is happy to bring you the voice of Coy Huffman.
The Russell Family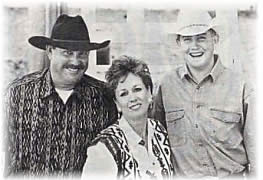 In the history of the nation's cattle industry, the Russell name goes all the way back to the period just after the Civil War. A Union Cavalry General by the name of D.A. Russell came from Illinois to the area in California now known as Folsom. At that time it was wide open gold country; and it took everything a man had to make something of it. General Russell built a ranch there, and when he died was buried at what is now Folsom Lake. Before the lake was filled, he was moved to his final resting place at Mormon Island.
General Russell had two sons, D.A. and Jack Russell. Long before rodeos were held in arenas, D.A. was a bucking horse rider. Jack was the one who handled the bets. As the two got older, each went their separate ways.
The bucking horse rider, D.A. went into the meat business in Colfax, California. He also supplied the "gold country" with meat. D.A. had a son, Melvin, who developed what is now called the "Home Ranch" located just off Scott Road in Folsom.
In the early years, Melvin raised Durhams, and later went into Hereford cattle. He developed land from the "Home Ranch" all the way to what is now Highway 50, toward Placerville, California. They loaded about 30 big cows to a boxcar. The only thing in Rocklin at the time were the corrals.
Melvin passed away in 1954, but his son, Daniel Henry Russell went on to expand the Russell Ranch into one of the largest family owned and operated cattle outfits in the United States today. Dan H., wanting to create a first class rodeo in Folsom, went into the rodeo business back in the 1960's, and designed what is now known as the Daniel Russell Arena. Western Rodeo's, Inc. developed from this idea and is, in essence, Russell Ranches. There are three girls and one boy in Dan H..'s family; Gail, Diane, Linda and Dan M. Russell. Dan H. has eight grandchildren.
Western Rodeos, Inc. is a modern, progressive company operating from Russell's vast ranches in California, Nevada and Wyoming. Dan M. Russell, Owner, President and Manager of western Rodeos, Inc., supplies the finest in rodeo stock available for top rodeos each year from the Dan Russell Arena in Folsom, California, to the National Finals Rodeo in Las Vegas, Nevada. Western Rodeos, Inc. also offers the sport of rodeo the best in trucking and promotional services.
FROM OUR OUTFIT TO YOURS – "HAPPY TRAILS"
2004 Rodeo Clown – Bert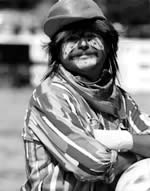 Bert has been making people laugh since he was 16, he started out his athletic career as the youngest PRCA clown and bull fighter in the business.
In 1999, Bert recieved his PCRA Gold Card at age 40. In 2000 and 2003, he performed at the National Finals Rodeo opening ceremonies with his act, and is nominated for 2003 PCRA Comedy Act of the Year, and has worked the Columbia River, Mountain States, Prairie, Sierra, and the Turquoise PRCA Circuit Finals. He even has his own website, coppertownclown.com
Enjoy Bert's interactive style and his ability to touch every member of the crowd from juniors to seniors and from first time visitors to veteran fans. So relish and witness one of the nation's most talented, experienced funnymen in the business. You'll be glad you did !!!