2003 Grand Marshal – Joe Martin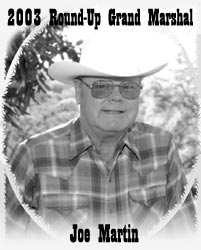 Joe Martin was born in 1929 to Jessie and Joe Martin, Sr. at the original East Sonora Martin ranch just off what is now Sanguinetti Loop Road. Both of his parents are deceased. He attended school at the Sonora Dome and graduated from Sonora High in 1947, where he lettered in football, basketball, baseball and track. He attended San Jose State. Joe served in the US Air Force. He still flies his own plane.
Joe had a dream of owning a trucking business. So in 1950 he traveled by train to Detroit, bought a GMC truck and drove it home. Joe started his trucking business hauling hay, fruit and livestock. 1950 was the first year that cattlemen hauled their cattle to the mountains and Joe was one of the first to haul cattle up there. In 1954 Joe expanded his trucking and also started Joe Martin logging. He then began to log and haul to LS Jones Sawmill in Soulsbyville. He continued to expand his business to 50 trucks. Joe Martin Logging and Trucking now included two locations, at the original Martin Ranch and at the intersection of La Grange Road and Highway 108/120. He started Sierra Resource Management, a state-of-the-art nature-friendly logging company with his daughter Stacey and Mike Albrecht, who now own and operate it.
The Martin family has always been in the cattle business. Joe Sr. had an ownership interest in and supplied beef to the old Palace Meat Market in downtown Sonora, which close around 1960. In 1969 Joe bought the Martin ranch from his dad and also became a full-time cattle rancher. Joe's ranches included the original home ranch, the ranch on O'Byrnes Ferry Road (the old McCormick Ranch) and a clover ranch on Warnerville Road in Oakdale. His brand is 'T5', which he inherited from his father.
Joe has been involved with the posse since its inception.His father was one of the original 12 members inducted into the Posse on January 12, 1948. Joe Sr. was our Grand Marshal in 1972. Joe's earliest involvement was hauling the Posse's horses in his stock truck to out of town parades. Joe was an active member in the Posse in the late 60s and 70s. Joe is still an Honorary Past Active member and has sponsored the Bareback Bronc event at the Round-Up for nearly two decades.
Joe married Joyce Hutchins in 1953. They have three children: Guy Martin, Jodie Rodriguez, and Stacey Martin. They have five granddaughters. Proudly all their descendants live in Tuolumne County. Joe has one brother, Melvin (Meb) Martin of Idaho, and one sister, Alba, who passed away in 1993.
Besides belonging to the Posse, Joe was on the Board of Trustees of Sonora Elementary School, President of Associated California Loggers, President of Sierra Cascade Logging Conference, awarded the Logger of the Year Award in 1995, the Tuolumne County Chamber of Commerce Citizen of the Year in 1988, on the Board of Directors of Sentinel Community Bank, on the Airport Land Use Commission, President of the 49er Rotary, a member of the Cattlemen, Farm Bureau and other affiliations.
Joe sold his trucking business in 2000 to his nephew Carroll Sinclair, who is assisted by Joe's niece Debbie Abernathy, and "theoretically retired" — but he stays active and you can find him and Joyce at their office at the Martin home ranch most any day.
The Sheriff's Posse appreciates Joe Martin for his contribution to his country, his community and to the Posse. He is deep down an American patriot and believes in her system. Thanks for being Grand Marshal of the 2003 Mother Lode Round-Up and Parade.
Rodeo Announcers – Bob Feist & Coy Huffman

Bob Feist – Anyone who follows team roping has heard of the BFI. The Bob Feist Invitational Team Roping Classic is the world's richest team roping. Cowboys competed for over $250,000 in cash and awards at the 2006 "Open to the World" Roping. Bob Feist is the publisher of Ropers Sports News, the "Bible" of team ropers. When time permits you'll find him on the rodeo circuit as a rodeo announcer or on American Cowboy and Rodeo Sports Page, as well as on various television and radio shows. He announces over 150 performances each year which has included shows from Alabama to Hawaii and from Washington to Arizona. His announcing record also includes the 1980 National Finals Rodeo.
That relaxed, resonant voice coming over the mike is Feist's stock in trade. He has been greeting people, winning public speaking awards and acting as master of ceremonies from the time he was old enough to open the front door; according to the lady who knows him best, his mother.
Combining his speaking talent and his love of the sport of rodeo, Feist now feels that he is serving the public in a way that he can best utilize his talents. He does over 90% of his shows horseback, as he feels he can better entertain the audience by being closer to them.

Coy Huffman – Professional rodeo announcers play a major role in connecting the audience to the action. It takes a unique individual to acquaint the fans with the cowboys, the stock and rodeo itself. Coy Huffman has just the right touch to excite and to get you involved.
Coy has worked all phases of rodeo from behind the chutes to out in front earning a "Gold Card" (lifetime membership) in the Professional Rodeo Cowboys Association.
A few years ago Coy began to pursue his life long vision of being a pro-rodeo announcer. Facing many challenges in a highly competitive field, Coy worked the rodeo labor list as chute boss at Cheyenne, Salinas, Dodge City, Colorado Springs, the Cow Palace and Sonora. He took advantage of opportunities to announce or emcee autograph parties, Exceptional Rodeo, high school rodeos and other events.
Coy Huffman and his wife Donna have their headquarters in Tucson, Arizona where they manage their rodeo business and ministry. Donna is a gifted writer, office administrator, driver and trusted counselor to rodeo wives. One of Coy's favorite sayings is, "Today is the best day of my entire life!" You are going to have a good friend by your side making every effort to help you have a great day at the rodeo. The Mother Lode Round-Up is happy to bring you the voice of Coy Huffman.
The Russell Family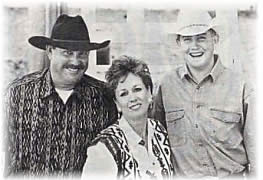 In the history of the nation's cattle industry, the Russell name goes all the way back to the period just after the Civil War. A Union Cavalry General by the name of D.A. Russell came from Illinois to the area in California now known as Folsom. At that time it was wide open gold country; and it took everything a man had to make something of it. General Russell built a ranch there, and when he died was buried at what is now Folsom Lake. Before the lake was filled, he was moved to his final resting place at Mormon Island.
General Russell had two sons, D.A. and Jack Russell. Long before rodeos were held in arenas, D.A. was a bucking horse rider. Jack was the one who handled the bets. As the two got older, each went their separate ways.
The bucking horse rider, D.A. went into the meat business in Colfax, California. He also supplied the "gold country" with meat. D.A. had a son, Melvin, who developed what is now called the "Home Ranch" located just off Scott Road in Folsom.
In the early years, Melvin raised Durhams, and later went into Hereford cattle. He developed land from the "Home Ranch" all the way to what is now Highway 50, toward Placerville, California. They loaded about 30 big cows to a boxcar. The only thing in Rocklin at the time were the corrals.
Melvin passed away in 1954, but his son, Daniel Henry Russell went on to expand the Russell Ranch into one of the largest family owned and operated cattle outfits in the United States today. Dan H., wanting to create a first class rodeo in Folsom, went into the rodeo business back in the 1960's, and designed what is now known as the Daniel Russell Arena. Western Rodeo's, Inc. developed from this idea and is, in essence, Russell Ranches. There are three girls and one boy in Dan H..'s family; Gail, Diane, Linda and Dan M. Russell. Dan H. has eight grandchildren.
Western Rodeos, Inc. is a modern, progressive company operating from Russell's vast ranches in California, Nevada and Wyoming. Dan M. Russell, Owner, President and Manager of western Rodeos, Inc., supplies the finest in rodeo stock available for top rodeos each year from the Dan Russell Arena in Folsom, California, to the National Finals Rodeo in Las Vegas, Nevada. Western Rodeos, Inc. also offers the sport of rodeo the best in trucking and promotional services.
FROM OUR OUTFIT TO YOURS – "HAPPY TRAILS"
2003 Rodeo Clown – Dale Woodward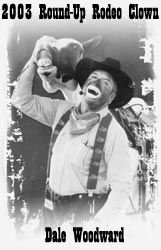 Growing up in French Camp, California, Dale's biggest dream was to one day become a cowboy. In 1959 Dale started his career as a contestant and in 1965 began pursuing his career as a rodeo clown. Dale's dream came true when he joined the PCRA in 1975.
When he's not working on his small ranch in Canon City, Colorado, Dale enjoys calf roping and team roping. In 1996, Dale won the National Senior Pro World Championship in Team Roping. Dale truly enjoys what he does. It's pure fun for him. He feels it gives him a chance to do things most people dream of, but never get to do. "We're all clowns inside," Dale says. "I'm just lucky enough to get paid for it."