2003 Honorary Town Marshal – Ray Antonini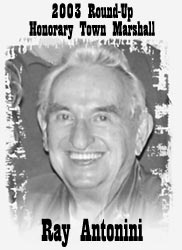 Ray Antonini is this year's "Honorary Town Marshal" for the Mother Lode Round-Up and parade.
Antonini was selected by ballot by the people of Sonora and Tuolumne County. The Tuolumne County Sheriff's Posse and the Union Democrat created this perpetual award for the "People's Choice" in 2000. Previous recipients are Don Paulsen, Galen "Mut" Mutzner, and Edward "Wimpy" Jones.
The 73-year old Antonini is an obvious choice for this award. He's spent his entire life in Sonora; in fact, he still lives in the house where he was born and raised. He also spent 22 years of his life with the Tuolumne County Sheriff's Department, rising to lieutenant and chief deputy coroner before leaving the department in 1977.
After running for sheriff twice in the 1970s, you might think Antonini had seen his name on a ballot for the last time. At least he thought so. A group of friends formed a committee, pounded the pavement, worked the phones, and delivered the votes – all without saying a word to their 'candidate'.
Today Antonini spends much of his time caring for his wife, Marie. When prompted, he can be a wealth of information about the rich history of the area. And this year he'll be honored as one of Tuolumne County's great citizens.
2003 Mother Lode Round-up Top Hand Award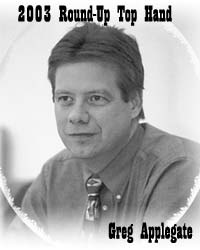 The Sheriff Posse's Top Hand Award is given each year to an individual who has given above and beyond the ordinary to our community, the Posse and the Round-Up.
Past recipients are: Harvey McGee – 1997; Dick Nutting – 1998; Irving Symons – 1999; Carlo DeFerrari – 2000; Chris Bateman – 2001; H. Randolph Holder – 2002.
Greg Applegate, the 2003 Top Hand honoree, is an extremely deserving recipient. He is the Administrator of the City of Sonora; and as administrator he has continually helped and supported the Posse, the Round-Up and his community.
Greg, with the support of the entire City Council of Sonora, Chief of Police Duane Ellis, Police Lieutenant Pat Tenegato, Public Works Director Ed Wylie, Treasurer Pat Perry, Special Programs Director Rochelle Kellogg and others on the City's staff anticipate the Round-Up year in and year out and organize to help the Posse in a giant way to get this largest and finest community event off the ground.
Specifically, Greg always chooses the right time to place on the agenda the city resolution to permit the Round-Up Parade to go down Washington Street on the Saturday of Mother's Day Weekend. He encourages the resolution's passage by the City Council. CalTrans is also encouraged to permit the parade on Washington Street (Hwy. 49) by the city. Our Round-Up banner over Washington Street always gets its time slotted in by the city staff. Greg and the City stepped up to help the Posse obtain insurance for the Round-Up when its acquisition was difficult. The Public Works staff helps the Posse and provides the equipment to hand the colorful Round-Up flags on the light poles each year. The Police Department alerts shopkeepers and then "looks the other way" when "Coyote Sam" does his shoot-out and downtown robbery of the "mystery item" that might prevent the Round-Up from taking place. The Police Department then takes on the huge job of directing and coordinating traffic during the parade. But it doesn't stop there. No matter what I ask Greg or the City to do, always in a sincere spirit of cooperation it's "Let's see what we can do to help!" Now that is a testimonial of city government working with its citizens!
Greg is supported and encouraged by his wife and high school sweetheart, Debbie. The two have been married 24 years and have two children: Caleb, 21, and Cassie, 18. Greg is a man who actively supports and works with his family. He is an outdoorsman, a horesman, a runner and actively works with his church.
Greg was born and raised in Sacramento with five siblings by his parents Bill and Betty Applegate. Sadly, Betty passed away 17 years ago with cancer. In high school he was active in football, baseball, track and basketball. He was MVP of varsity basketball all four years of high school. Greg graduated from Sacramento State University with a Bachelor's Degree in Parks and Recreation Administration. Later he attended and graduated from Golden Gate Universtiy with a Master's Degree in Public Administration. Greg is active in the Government Affairs Council of the Tuolumne County Chamber of Commerce.
Greg leads the City of Sonora through its day-to-day administration, through its political challenges and its many events in a sterling manner. We, the Posse, are proud to work with Greg and we are glad he came to the City of Sonora in 1990 and stayed.
The Tuolumne County Sheriff's Posse sincerely thanks Greg from the heart for all he has done to support the Posse, the Mother Lode Round-Up, to preserve our rich Western tradition and for his contribution to our community over the years.
2003 Mother of the Year – Edwina Annette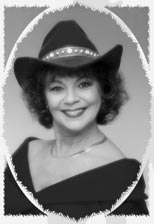 The Mother of the Year for this year's Mother Lode Round-Up is Edwina Annette Badley of Sonora. Edwina and her brother Ed were born in Chicago to Edward and Sophie Owczarski, both Polish immigrants. Edwina moved to Tuolumne County when she was five years-old and lived on a ranch behind what is now the Columbia Airport. She later moved to Shaws Flat, where her father built their first home. She moved to Chinese Camp and finally settled in Moccasin when her father was hired on at the Hetch Hetchy water. Edwina attended Sonora High School.
Edwina, or "Eddie" as she is called by her friends, is the proud mother of three children: Steve Zelinsky, a member of the Tuolumne County Sheriff's Posse; Matt Zelinsky, a sergeant with the Tuolumne County Sheriff's Department; and Lari Bloom, who resides with her family in Hawaii. She is equally proud of her eight beautiful grandchildren and looks forward to the time she gets to spend with each of them. Edwina loves to paint and has even taught "tole painting" and other craft-related classes. She owned her own business "Love to Craft" in Twain Harte for several years, but now enjoys the additional time off for her favorite pastime, golf.
Edwina is an unselfish and caring person who put aside her own personal needs countless times in order to care for aging family members. She can always be depended upon when somebody needs a helping hand. She currently works at the Union Bank of California as a customer service and sales representative and is honored and proud to be selected as this year's Mother of the Year.