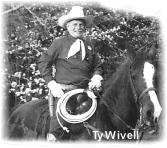 2002 General Chairman – Ty Wivell
View the Roundup Parade on our Webcams:
Welcome to the Mother Lode Round Up! You are making history! You are now part of a rich family tradition that has been staged in historic Sonora in the heart of the Mother Lode Gold Country for 46 years; always on Mother's Day weekend. It is the 55th Anniversary of the Tuolumne County Sheriff's Posse who always organized the Round Up in a rewarding partnership with our local merchants.
Because of the support of our local businessmen and women, our local government entities and the hard work of the posse men and their wives and many, many others, the Round Up has grown into one of the finest spring rodeos in California, attracting more than 350 of the finest cowboy and cowgirl rodeo contestants in the world. It also is recognized for the second largest parade in California (second only to the Rose Parade) It draws in over 50,000 visitors and spectators. It has become one of the events to see in California. Thanks to you, our fans, the merchants, our sponsors, the possemen, their wives, and our other supporters for keeping his wonderful tradition alive and growing.
The Round Up is a family and hometown reunion. Its celebrates and pays tribute to our western heritage and the people in our past. Most of all it happens because it's FUN! Enjoy the fresh clean bright springtime in our foothills and the Round Up, and rodeo as it use to be! Have a Happy Mother's Day Moms (and their children)!
My love to my wife and kids. My thanks to the Posse for the fun and the years.
Thanks again,
Ty Wivell,
Round Up General Chairman
Tuolumne County Sheriff's Posse