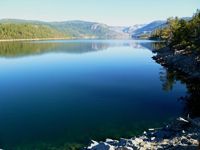 Fish and boat on the largest lake in the Stanislaus National Forest. Cherry Lake is just outside of Yosemite's borders. Open all year, perfect for summer recreation, road access is subject to winter closure. Cherry Lake visitors can enjoy an uncrowded lake perfect for water sports, swimming, fishing and hiking. The Day use area is on the West side of Charry Valley Dam with a boat ramp and a designated swim area.
Cherry lake is fed by the North, East and West forks of Cherry Creek. They begin in the Emigrant Wilderness and all of them flow roughly southwest. The water from the lake (reservoir) powers the Dion R. Holm hydroelectric facility power plant. It was built by San Francisco as part of the Hetch Hetchy Project, which supplies drinking water to San Francisco. Human contact with the water is allowed because the water is filtered.
It is at an elevation of 4,700 feet.
From Groveland Ranger District Office head east on Highway 120 approximately 5 miles, turn left on Cherry Lake Road; follow Cherry Lake Road 20 miles to Cherry Lake. Cherry Lake Road is a narrow, steep and winding paved route where safe travel speeds average 20-30 mph.

Cherry Valley Campground is on the south west shore of Cherry Lake and has 46 campsites. Reservations are first-come, first-served and there is dispersed camping (you can boat-in) on the east side. Open from late April through October.
Groveland Ranger District
24545 Highway 120 Groveland, CA 95321
Summer Hours (Apr – Aug)
M-Sun: 8:00am to 3:30pm
Winter Hours (September – March)
M-F: 8:00am to 4:30pm Sat: 8:00am – 3:30pm
Phone: (209) 962-7825
TDD: (209) 962-6406
Fax: (209) 962-7412

Andresen Mine Trail is moderate 4.5 mile hike with an elevation from 2100 to 1900 feet. Take Cherry Lake Road to one mile past the Kirkwood Powerhouse. Bear left onto 1S23Y and park off the road. Trail begins across the bridge. Use Jawbone and Cherry Lake South topographic quad.
North Mountain Trail is a difficult three mile hike that climbs 2,500 feet in elevation. The trail follows the ridge line to an abandoned fire tower. Take Cherry Lake Road approximately 5 miles from the District Office. Approximately two miles past the Kirkwood Powerhouse, bear right and up off Cherry Lake Road. Continue bearing right and up for one mile to gated road. Park off the road, do not block the gate. Trail begins to the right, just in front of the closed gate. Use Cherry Lake South topographic quad.

The most advanced whitewater in California: Class V
Cherry Creek ranks up there with the most difficult whitewater in the entire United States. The river's 15 Class V whitewater rapids are generated by the canyon's steep gradient—the river drops more than 100 vertical feet per mile. Narrow and steep, the river is often choked with huge boulders. When you reach the bottom of a Cherry Creek rapid you'll look back upstream exhilarated, and wish you could hike back up and do it again.
Only two outfitters run Cherry Creek, few get to paddle this stunning stretch of the Tuolumne; your group will likely be the only one on the water. This exclusivity means Cherry Creek trips offer nearly private access to a remarkable and isolated canyon.
Cherry Creek is a dam-controlled stretch of the Tuolumne River and becomes raft-able at lower flows, after the springtime snow melt. Trips usually begin in June and go through August.

If river fishing is your way to relax, these rivers should be your destination. Patient anglers who get up with in the early hours with the sun will be sure to catch their limit of trout and take in appealing vistas.